When you are buying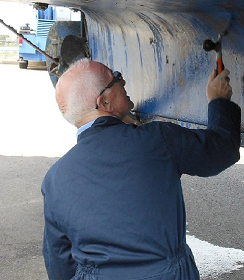 Pre-Purchase Surveys.
It is a Condition survey and it is important to have the boat lifted out of the water even for a few hours. It is advisable to have a Sea or River based trial. You can have both fuel and oil anylasis tests so the machinery and systems can be verified.
As your surveyor I go through every part of the boat and report back to you on her condition. I will tell you if any work is required and give you some idea of the costs involved. I provide you with a 'free of jargon' written report making it easy to understand.
The condition survey will be often be accepted by Insurance companies for Insurance purposes.
Briefly my Survey will cover:
Reporting
Your boat survey report will be comprehensive, easy to read and understand. I provide you with a verbal update on the day.
GRP
The existence and extent of Osmosis is a key concern. Visual inspection, moisture readings, percussion testing are the routine methods employed to detect it.
Steel
The thickness of the steel plating is a major factor in particular below the water line. Visual inspection, ultra sound readings, hammer and chip testing are the routine methods employed to detect corrosive deterioration, defects and damage.
Engine Survey and Sea Trial
A sea or water based trial will provide an indication of the performance of the engine(s) under load. Of course it also highlights other issues to. The engine can represent a high proportion of the value of the boat. With a background in Engines I know the importance of having reliable machinery.
Oil Analysis
It is an excellent summary of the overall condition. Not only will it provide a complete picture of the engine, it is an excellent maintenance tool when carried out at service intervals.
Inland Waterways
Preliminary checks for compliance with the Boat Safety Certificate.
Coverage:
Some of the following are not applicable to all types of boats:
Hull, Deck and Structure
1. Details of vessel (Description, dimensions, registration etc.)
2. Keel
3. Hull below waterline
4. Topsides above waterline
5. Deck moulding
6. Coach Roof
7. Cockpit
8. Hull/Deck Join
9. Bulkheads and Structural Stiffening including Internal Mouldings
Steering, Stern Gear and Skin Fittings
10. Rudder and steering
11. Stern Gear
12. Cathode Protection
13. Skin Fittings and other through hull apertures
On Deck
14. Main Companionway and other Access to Accommodation
15. Ports, Windows
16. Pulpit, Stanchions, Pushpit, Lifelines and Jackstays
17. Rigging Attachment Points
18. Ground Tackle and Mooring Arrangements
19. Other Deck Gear and Fittings
20. Davits and Boarding Ladders
Rig
21. Spars
22. Standing Rigging
23. Running Rigging
24. Sails and Covers where possible
Safety
25. Navigation Lights
26. Bilge Pumping Arrangements
27. Fire Fighting Equipment
28. Lifesaving and Emergency Equipment
Engine
29. Static Engine checks including installation and ancillary equipment
30. Fuel System
Accommodation and on board systems
31. Accommodation General
32. Gas Installation
33. Fresh Water system
34. Heads
35. Electrical Installation
36. Electronic and Navigation Equipment
Additional Extras
A Inland water/sea trial is assumes a minimum running time under load of forty minutes and a maximum of two hours. This is an operational check with how the boat is used under normal conditions. I also recommend for a client using this service to have an oil analysis.
The oil analysis is carried out by a specialist company and the results take at least three days from the time of postage.